SERMONS AND

COMMENTARY

Patristic / Medieval
Augustine 1 (Gospel)
Augustine 2 (Gospel)

Chrysostom (Gospel Parallel)

Chrysostom (Epistle)




Cassian (On the Spirit of Accidie)

Gregory the Great:

- Moralia XIX, xxvii (Epistle)

John Climacus (Step 13 On Despondency in

The Ladder of Divine Ascent

)




Dante's Purgatory the Fourth Circle - The Slothful (Canto XVII(76) - XIX (69))

Chaucer - on Accidie in The Canterbury Tales

John of Ruysbroeck (Zeal and Diligence)

Reformation

Calvin (Gospel)

Calvin (Epistle)

Luther (Gospel)

Luther (Epistle)

Homily XX (Against Idleness)

Hooker (Accidie)

Caroline Divines


Evangelical Revival
Wesley's Notes (Epistle)
Wesley's Notes (Gospel)

Oxford Movement
Keble
Newman (Epistle)
Williams (Epistle)
Williams (Gospel)
Blunt's Commentary
Scott's Commentary
Trench - On the Miracles
Gore (Epistle)

Paget (Introductory Essay Concerning Accidie)

Recent

Farrer (Weekly Paragraph on the Holy Sacrament)

Pieper (See Essay "Leisure the Basis of Culture" Ch III and V)
Common Prayer Commentary
Crouse

Curry 2
Hankey
Sisterman
Tarsitano

Other
G. MacDonald - Miracles
Matthew Henry (Gospel)
Matthew Henry (Epistle)

Additional Materials

Keble poem - Trinity VII from The Christian Year

R. L. Stevenson

(The Celestial Surgeon)

Links to Images of the Gospel

- Biblical Art on the WWW - Textweek
THE COLLECT.
LORD of all power and might, who art the author and giver of all good things: Graft in our hearts the love of thy Name, increase in us true religion, nourish us with all goodness, and of thy great mercy keep us in the same; through Jesus Christ our Lord. Amen.
THE EPISTLE. Rom. 6. 17
The 1962 Canadian BCP begins here two verses before the 1662 BCP...
THANKS be to God that you, who were once slaves to sin, have obeyed from the heart that pattern of teaching whereunto you were delivered; you were set free from sin, and have become servants of righteousness.

The 1662 BCP begins here...
I speak after the manner of men because of the infirmity of your flesh: for as ye have yielded your members servants to uncleanness and to iniquity unto iniquity; even so now yield your members servants to righteousness unto holiness. For when ye were the servants of sin, ye were free from righteousness. What fruit had ye then in those things whereof ye are now ashamed? for the end of those things is death. But now being made free from sin, and become servants to God, ye have your fruit unto holiness, and the end everlasting life. For the wages of sin is death; but the gift of God is eternal life, through Jesus Christ our Lord.
THE GOSPEL. S. Mark 8. 1
IN those days the multitude being very great, and having nothing to eat, Jesus called his disciples unto him, and saith unto them, I have compassion on the multitude, because they have now been with me three days, and have nothing to eat: and if I send them away fasting to their own houses, they will faint by the way; for divers of them came from far. And his disciples answered him, From whence can a man satisfy these men with bread here in the wilderness? And he asked them, How many loaves have ye? And they said, Seven. And he commanded the people to sit down on the ground: and he took the seven loaves, and gave thanks, and brake, and gave to his disciples to set before them; and they did set them before the people. And they had a few small fishes; and he blessed, and commanded to set them also before them. So they did eat, and were filled: and they took up of the broken meat that was left seven baskets. And they that had eaten were about four thousand. And he sent them away.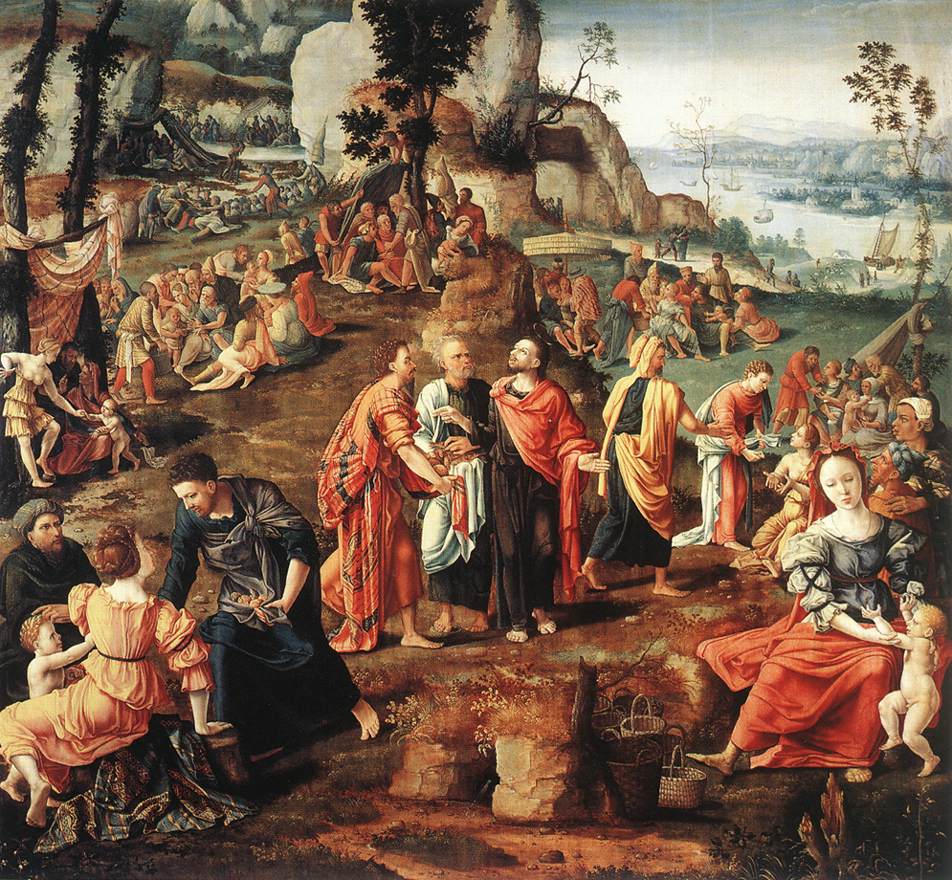 Miracle of the Loaves and Fishes, Lambert Lombard
INTROIT. Ps 47:1-4
Ant. O CLAP your hands together, all ye peoples; / O sing unto God with the voice of melody.
2 For the Lord Most High is to be feared; / he is a great King over all the earth.
3 He subdued the people under us, / and the nations under our feet.
4 He chose our heritage for us, / even the glorious land of Jacob, whom he loved.
Glory be. Repeat Antiphon.
GRADUAL. Ps 34:11-15
COME, ye children, and hearken unto me; / I will teach you the fear of the Lord.
12 What man is he that desireth to live, / and would fain see good days?
13 Keep thy tongue from evil, / and thy lips, that they speak no guile.
14 Depart from evil, and do good; / seek peace, and pursue it.
Alleluia, All. The eyes of the Lord are over the righteous, / and his ears are open unto their prayers. All.
Additional Propers for Eucharistic Devotions