SERMONS AND
COMMENTARY
Patristic / Medieval
Augustine (Gospel)
Augustine (Prayer for the Gift of Tears)
Chrysostom (Epistle)
Gregory the Great:
- on taking pride in a spiritual gift
- on Wisdom entering our hearts
- a hidden Word spoken inwardly
Maximus the Confessor (On Illumination and prayer)

Catena Aurea (Parallel Gospel)
Thomas Aquinas:
- Summa Theologica II II 171-178
- 172 Of the cause of prophecy
- 173 Of the manner it is conveyed
- 174 Of the division of prophecy
- 177 Of grace consisting in words
- 178 Of the grace of miracles
Reformation
Calvin (Gospel)
Calvin (Epistle)
Luther (Gospel)
Caroline Divines

Evangelical Revival
Wesley's Notes (Gospel)
Wesley's Notes (Epistle)
Oxford Movement
Keble
Williams (Epistle)
Williams (Gospel)
Blunt's Commentary
Scott's Commentary
Recent
Farrer (Weekly Paragraphs on the Holy Sacrament)
Common Prayer Commentary
Crouse
Dunbar
Matheson
Sisterman
Tarsitano
Other
Matthew Henry (Gospel)
Matthew Henry (Epistle)
Additional Materials
Keble poem - Trinity X from The Christian Year
Links to images of the Gospel
-
Jesus weeping over Jerusalem
- Cleansing of the Temple
THE COLLECT.
LET thy merciful ears, O Lord, be open to the prayers of thy humble servants; and, that they may obtain their petitions make them to ask such things as shall please thee; through Jesus Christ our Lord. Amen.
THE EPISTLE. 1 Cor. 12. 1
CONCERNING spiritual gifts, brethren, I would not have you ignorant. Ye know that ye were Gentiles, carried away unto these dumb idols, even as ye were led. Wherefore I give you to understand, that no man speaking by the Spirit of God calleth Jesus accursed: and that no man can say that Jesus is the Lord, but by the Holy Ghost. Now there are diversities of gifts, but the same Spirit. And there are differences of administrations, but the same Lord. And there are diversities of operations, but it is the same God which worketh all in all. But the manifestation of the Spirit is given to every man to profit withal. For to one is given by the Spirit the word of wisdom; to another the word of knowledge by the same Spirit; to another faith by the same Spirit; to another the gifts of healing by the same Spirit; to another the working of miracles; to another prophecy; to another discerning of spirits; to another divers kinds of tongues; to another the interpretation of tongues. But all these worketh that one and the self-same Spirit, dividing to every man severally as he will.
THE GOSPEL. S. Luke 19. 41
AND when he was come near, he beheld the city, and wept over it, saying, If thou hadst known, even thou, at least in this thy day, the things which belong unto thy peace! but now they are hid from thine eyes. For the days shall come upon thee, that thine enemies shall cast a trench about thee, and compass thee round, and keep thee in on every side, and shall lay thee even with the ground, and thy children within thee; and they shall not leave in thee one stone upon another; because thou knewest not the time of thy visitation. And he went into the temple, and began to cast out them that sold therein, and them that bought; saying unto them, It is written, My house is the house of prayer; but ye have made it a den of thieves. And he taught daily in the temple.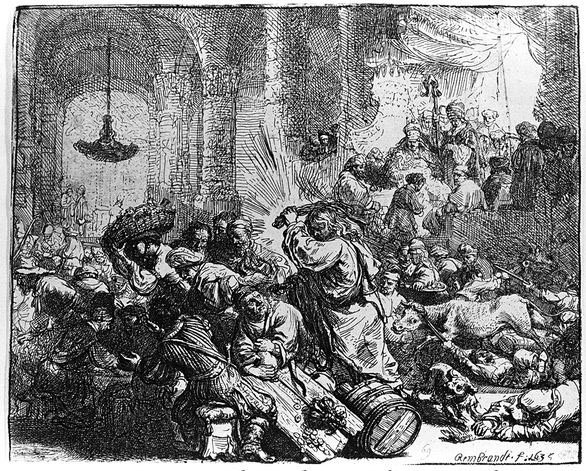 Christ cleanses the Temple, Rembrandt 1635
INTROIT. Ps 55:1-8, 22
HEAR my prayer, O God, / and hide not thyself from my petition.
2 Take heed unto me, and hear me, / how I mourn in my prayer, and am vexed.
3 The enemy crieth so, and the ungodly cometh on so fast; / for they are minded to do me some mischief; so maliciously are they set against me.
4 My heart is disquieted within me, / and the terrors of death are fallen upon me.
5 Fearfulness and trembling are come upon me, / and an horrible dread hath overwhelmed me.
6 And I said, 'O that I had wings like a dove! / for then would I fly away, and be at rest.
7 Lo, then would I get me away fair off, / and abide in the wilderness.
8 I would make haste to find me a shelter / from the stormy wind and tempest.
Ant. O cast thy burden upon the Lord, and he shall uphold thee, / and shall not suffer the righteous to be moved for ever.
Glory be. Repeat Antiphon.
GRADUAL. Ps 137:1-6
BY the waters of Babylon we sat down and wept, / when we remembered thee, O Sion.
2 As for our harps, we hanged them up / upon the trees that are therein.
3 For they that led us away captive required of us then a song, and they that plundered us a melody: / 'Sing us one of the songs of Sion.'
4 How shall we sing the Lord's song / in a strange land?
5 If I forget thee, O Jerusalem, / let my right hand forget her cunning.
Alleluia, All. If I do not remember thee, let my tongue cleave to the roof of my mouth; / yea if I prefer not Jerusalem in my mirth. All.
Additional Propers for Eucharistic Devotions