SERMONS AND
COMMENTARY
Patristic / Medieval
Chrysostom (Gospel)
Chrysostom (Epistle)
Gregory the Great (Gospel - Moralia)
Leo the Great (sermons on Lent see Ash Wednesday)
Reformation
Calvin (Epistle)
Knox (Gospel)
Luther (Gospel)
Luther (Epistle)
Caroline Divines
Ken (Pastoral Letter to Clergy for Lent)
Sparrow (On Lent & Sundays)
Evangelical Revival
Wesley's Notes (Gospel)
Wesley's Notes (Epistle)
Whitfield (Gospel)
Oxford Movement
Keble (Gospel)
Keble (Epistle)
Newman (Gospel)
Isaac Williams (Epistle)
Isaac Williams (Gospel)
Blunt's Commentary
Scott's Commentary
Recent
Charles Williams (Gospel)
Farrer (Paragraph for the Holy Sacrament)
Crouse:
Other
G.MacDonald (Gospel)
Matthew Henry (Gospel)
Matthew Henry (Epistle)
Additional Materials
Keble Poem for Lent 1 from the Christian Year
Links to Images of the Temptation of Christ:
"A Week at Prayer" Bulletin insert with Cdn BCP daily readings
Table of Cdn BCP daily readings for week of Lent 1
THE COLLECT.
O LORD, who for our sake didst fast forty days and forty nights: Give us grace to use such abstinence, that, our flesh being subdued to the Spirit, we may ever obey thy godly motions in righteousness and true holiness, to thy honour and glory, who livest and reignest with the Father and the Holy Ghost, one God, world without end. Amen.
THE EPISTLE. 2 Cor. 6. 1
WE then, as workers together with him, beseech you also, that ye receive not the grace of God in vain; (for he saith, I have heard thee in a time accepted, and in the day of salvation have I succoured thee: behold, now is the accepted time; behold, now is the day of salvation;) giving no offence in any thing, that the ministry be not blamed; but in all things approving ourselves as the ministers of God, in much patience, in afflictions, in necessities, in distresses, in stripes, in imprisonments, in tumults, in labours, in watchings, in fastings; by pureness, by knowledge, by long-suffering, by kindness, by the Holy Ghost, by love unfeigned, by the word of truth, by the power of God; by the armour of righteousness on the right hand and on the left; by honour and dishonour, by evil report and good report; as deceivers, and yet true; as unknown, and yet well known; as dying, and behold, we live; as chastened, and not killed; as sorrowful, yet alway rejoicing; as poor, yet making many rich; as having nothing, and yet possessing all things.
THE GOSPEL. S. Matth. 4. 1
THEN was Jesus led up of the Spirit into the wilderness to be tempted of the devil. And when he had fasted forty days and forty nights, he was afterward an-hungered. And when the tempter came to him, he said, If thou be the Son of God, command that these stones be made bread. But he answered and said, It is written, Man shall not live by bread alone, but by every word that proceedeth out of the mouth of God. Then the devil taketh him up into the holy city, and setteth him on a pinnacle of the temple, and saith unto him, If thou be the Son of God, cast thyself down; for it is written, He shall give his angels charge concerning thee, and in their hands they shall bear thee up, lest at any time thou dash thy foot against a stone. Jesus said unto him, It is written again, Thou shalt not tempt the Lord thy God. Again, the devil taketh him up into an exceeding high mountain, and sheweth him all the kingdoms of the world, and the glory of them; and saith unto him, All these things will I give thee, if thou wilt fall down and worship me. Then saith Jesus unto him, Get thee hence, Satan; for it is written, Thou shalt worship the Lord thy God, and him only shalt thou serve. Then the devil leaveth him, and, behold, angels came and ministered unto him.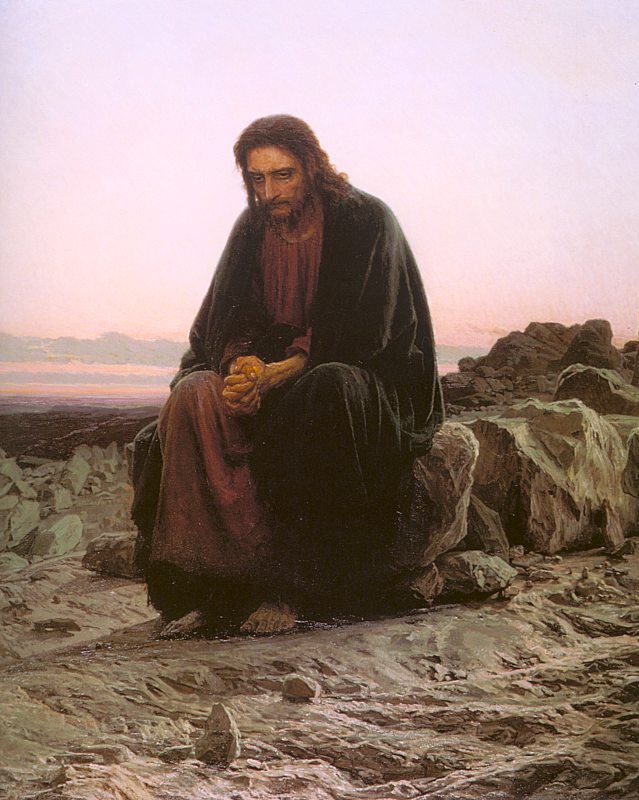 Christ in the wilderness
by Ivan Nikolaevich Kramskoy 1873
INTROIT. Ps 91:1-8
WHOSO dwelleth under the defence of the most High / shall abide u nder the shadow of the Almighty.
Ant. I will say unto the Lord, 'Thou art my hope, and my strong hold; / my God, in him will I trust.'
3 For he shall deliver thee from the snare of the hunter, / and from the noisome pestilence.
4 He shall defend thee under his wings, and thou shalt be safe under his feathers; / his faithfulness is a shield and buckler.
5 Thou shalt not be afraid for any terror by night, / nor for the arrow that flieth by day;
6 For the pestilence that walketh in darkness, / nor for the sickness that destroyeth in the noon-day.
7 A thousand shall fall beside thee, and ten thousand at thy right hand; / but it shall not come nigh thee.
8 Yea, with thine eyes shalt thou behold, / and see the reward of the ungodly.
Glory be. Repeat Antiphon.

GRADUAL. Ps 91:9-16
BECAUSE thou hast said, 'The LORD is my refuge', / and hast made the Most High thy habitation,
10 There shall no evil happen unto thee, / neither shall any plague come nigh thy dwelling.
11 For he shall give his angels charge over thee, / to keep thee in all thy ways.
12 They shall bear thee in their hands, / that thou hurt not thy foot against a stone.
13 Thou shalt tread upon the lion and adder: / the young lion and the dragon shalt thou tread under thy feet.
14 Because he hath set his love upon me, therefore will I deliver him; / I will set him up, because he hath known my Name.
15 He shall call upon me, and I will hear him: / yea, I am with him in trouble; I will deliver him, and bring him to honour.
16 With long life will I satisfy him, / and show him my salvation.

Additional Propers for Eucharistic Devotion