SERMONS AND

COMMENTARY

Patristic / Medieval
Ambrose (Gospel)
Augustine (Gospel - see Confessions Bk VIII Ch 3, 4)
Cyril of Alexandria (Gospel)
Peter Chrysologus (Gospel)

Chrysostom (Parallel Gospel)

Cassian (On Pride)

Benedict (Ch. 7 On Humility from the Holy Rule)

Gregory the Great

-

the angelic choirs

- the blinding of pride (Bk. xxiv, 50) - the seven capital sins and their

relation to one another - Gospel imagery of lost sheep being found by the Lord Bk. xxx. s. 80

John Climacus (See steps 4 On Obedience, 23 On Pride, 25 On Humility in the

Ladder of Divine Ascent

)

Catena Aurea (Parallel Gospel)

Bonaventure (Holiness of Life, Ch. II True Humility) Dante on Pride in Purgatory (Cornice I Cantos X to XII) John of Ruysbroeck (Humility)

Reformation

Calvin (Gospel)

Calvin (Epistle)

Luther 1 (Gospel)

Luther 2 (Gospel)

Caroline Divines
Jeremy Taylor (On Humility and Pride)

Evangelical Revival
Wesley's Notes (Gospel)
Wesley's Notes (Epistle)

Oxford Movement
Keble (the lost coin)

Keble (Epistle)
Williams (Epistle)
Williams (Gospel)
Blunt's Commentary
Scott's Commentary
Trench (the lost sheep)
Trench (the lost coin)

Recent
Charles Williams selections

Farrer (Weekly Paragraphs on the Holy Sacrament)
Sayers (on Pride)

Hankey 2
Sisterman
Tarsitano
Smith on Bach Cantata BWV 21

Other
Erskine (Epistle)
Matthew Henry (Gospel)
Matthew Henry (Epistle)
Cusick (Meeting Christ in the Liturgy)
Spurgeon (Gospel)

Additional Materials

Keble poem - Trinity III from The Christian Year

Links to images of the Gospel:

- The Lost Sheep - The Lost Coin



THE COLLECT.
O LORD, we beseech thee mercifully to hear us; and grant that we, to whom thou hast given an hearty desire to pray, may by thy mighty aid be defended and comforted in all dangers and adversities; through Jesus Christ our Lord. Amen.
THE EPISTLE. 1 S. Peter 5. 5
ALL of you be subject one to another, and be clothed with humility: for God resisteth the proud, and giveth grace to the humble. Humble yourselves therefore under the mighty hand of God, that he may exalt you in due time; casting all your care upon him, for he careth for you. Be sober, be vigilant; because your adversary the devil, as a roaring lion, walketh about seeking whom he may devour: whom resist stedfast in the faith, knowing that the same afflictions are accomplished in your brethren that are in the world. But the God of all grace, who hath called us into his eternal glory by Christ Jesus, after that ye have suffered a while, make you perfect, stablish, strengthen, settle you. To him be glory and dominion for ever and ever. Amen.
THE GOSPEL. S. Luke 15. 1
THEN drew near unto him all the Publicans and sinners for to hear him. And the Pharisees and Scribes murmured, saying, This man receiveth sinners, and eateth with them. And he spake this parable unto them, saying, What man of you, having an hundred sheep, if he lose one of them, doth not leave the ninety and nine in the wilderness, and go after that which is lost, until he find it? And when he hath found it, he layeth it on his shoulders, rejoicing. And when he cometh home, he calleth together his friends and neighbours, saying unto them, Rejoice with me; for I have found my sheep which was lost. I say unto you, that likewise joy shall be in heaven over one sinner that repenteth, more than over ninety and nine just persons, which need no repentance. Either what woman having ten pieces of silver, if she lose one piece, doth not light a candle, and sweep the house, and seek diligently till she find it? And when she hath found it, she calleth her friends and her neighbours together, saying, Rejoice with me; for I have found the piece which I had lost. Likewise, I say unto you, There is joy in the presence of the angels of God over one sinner that repenteth.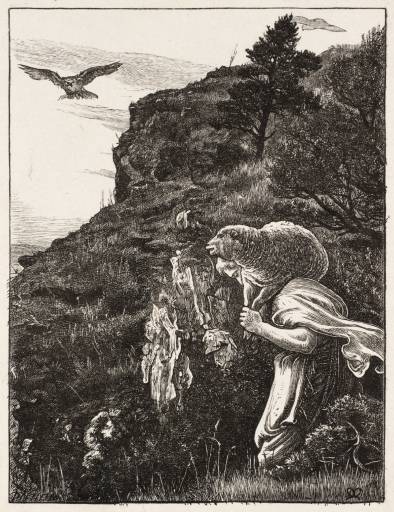 The Lost Sheep Sir John Everett Millais, published 1864

INTROIT. Ps 25:16-22
Ant. TURN thee unto me, and have mercy upon me; / for I am desolate, and in misery.
17 Relieve thou the sorrows of my heart: / O bring thou me out of my troubles.
18 Look upon my adversity and misery, / and forgive me all my sins.
19 Consider mine enemies, how many they are; / and they bear a tyrannous hate against me.
20 O keep my soul, and deliver me; / let me not be confounded, for I have put my trust in thee.
21 Let perfectness and righteous dealing preserve me; / for my hope is in thee.
22 Deliver Israel, O God, / out of all his troubles.
Glory be. Repeat Antiphon.
GRADUAL. Ps 7:9-12
9 O let the wickedness of the ungodly come to an end; / but guide thou the just.
10 For the righteous God / trieth the very minds and hearts.
11 My help cometh of God, / who preserveth them that are true of heart.
Alleluia, All. God is a righteous Judge, strong, and patient; / and God is provoked every day. All.

Additional Propers for Eucharistic Devotions