SERMONS AND

COMMENTARY

Patristic / Medieval
Augustine (Parallel Gospel)
Augustine (On Vainglory) see City of God Bk V, Ch. 13f

Chrysostom (Parallel Gospel)

Chrysostom (Epistle)

Cassian (On Vainglory) in

- The Institutes - The Conferences

Gregory the Great

- his confession in the Moralia - the seven capital sins and their relation to one another

Gleanings of the Orthodox Fathers (Parallel Gospel)

John Climacus (Vainglory is Step 22 of the

Ladder of Divine Ascent

)

Catena Aurea

(Parallel Gospel)

Thomas Aquinas

- Mercy (ST

II II Q.30)

- Envy (ST

II II Q.36)

- Whether a sinner may correct anyone? (

ST

II II Q36.5)

Dante's Purgatory

- Pride (Canto X to XII) - Envy (Canto XIII to XV81)

John of Ruysbroeck


Reformation

Calvin (Gospel) Calvin (Epistle)

Luther (Gospel)

Luther (Epistle)

Caroline Divines


Evangelical Revival
Wesley sermon (Epistle)
J. Wesley's Notes (Gospel)
J. Wesley's Notes (Epistle)


Oxford Movement
Keble (Gospel)
Williams (Epistle)
Williams (Gospel)
Blunt's Commentary
Scott's Commentary

Recent
Charles Williams selections

Farrer (Weekly Paragraph on the Holy Sacrament)

Sayers

- On Envy

- On Pride
Common Prayer Commentary
Crouse

Curry
Hankey - Sermon
Hankey - Paper
Sisterman
Tarsitano

Other

Bunyan (Vanity Fair in Pilgrim's Progress)
MacDonald (Epistle)
Matthew Henry (Gospel)
Matthew Henry (Epistle)

Additional Materials

Keble poem - Trinity IV from The Christian Year

Link to images of the Gospel:

- the speck and the beam
- textweek (parables)
THE COLLECT.
O GOD, the protector of all that trust in thee, without whom nothing is strong, nothing is holy: Increase and multiply upon us thy mercy; that, thou being our ruler and guide, we may so pass through things temporal, that we finally lose not the things eternal: Grant this, O heavenly Father, for Jesus Christ's sake our Lord. Amen.
THE EPISTLE. Rom. 8. 18
I RECKON that the sufferings of this present time are not worthy to be compared with the glory which shall be revealed in us. For the earnest expectation of the creature waiteth for the manifestation of the sons of God. For the creature was made subject to vanity, not willingly, but by reason of him who hath subjected the same in hope: because the creature itself also shall be delivered from the bondage of corruption into the glorious liberty of the children of God. For we know that the whole creation groaneth and travaileth in pain together until now. And not only they, but ourselves also, which have the first-fruits of the Spirit, even we ourselves groan within ourselves, waiting for our full adoption as sons, even the redemption of our body.
THE GOSPEL. S. Luke 6. 36
JESUS said unto his disciples, Be ye therefore merciful, as your Father also is merciful. Judge not, and ye shall not be judged: condemn not, and ye shall not be condemned: forgive, and ye shall be forgiven: give, and it shall be given unto you; good measure, pressed down, and shaken together, and running over, shall men give into your bosom. For with the same measure that ye mete withal, it shall be measured to you again. And he spake a parable unto them, Can the blind lead the blind? shall they not both fall into the ditch? The disciple is not above his master; but every one that is perfect shall be as his master. And why beholdest thou the mote that is in thy brother's eye, but perceivest not the beam that is in thine own eye? Either how canst thou say to thy brother, Brother, let me pull out the mote that is in thine eye, when thou thyself beholdest not the beam that is in thine own eye? Thou hypocrite, cast out first the beam out of thine own eye, and then shalt thou see clearly to pull out the mote that is in thy brother's eye.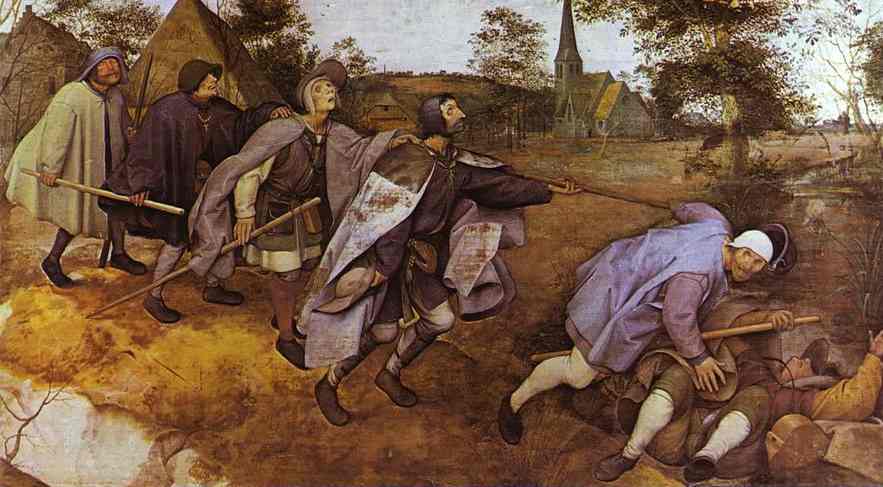 Parable of the Blind Leading the Blind, Pieter (the Elder) Bruegel, 1568
INTROIT. Ps 27:1-7
Ant. THE Lord is my light, and my salvation whom then shall I fear : the Lord is the' strength of my life; of whom then shall I be afraid?
2 When the wicked, even mine enemies, and my foes, came upon me to eat up my flesh : they stumbled and fell.
3 Though an host of men were laid against me, yet shall not my heart be afraid. and though there rose up war against me, yet will I put my trust in him.
4 One thing have I desired of the Lord, which I will require : even that I may dwell in the house of the Lord all the days of my life, to behold the fair beauty of the Lord, and to visit his temple.
5 For in the time of trouble he shall hide me in his tabernacle : yea, in the secret place of his dwelling shall he hide me, and set me up upon a rock of stone.
6 And now shall he lift up mine head above mine enemies round about me.
7 Therefore will I offer in his dwelling an oblation with great gladness : I will sing, and speak praises unto the Lord.
Glory be. Repeat Antiphon.
GRADUAL. Ps 9:9-12
9 The Lord also will be a defence for the oppressed : even a refuge in due time of trouble.
10 And they that know thy Name will put their trust in thee : for thou, Lord, hast never failed them that seek thee.
11 O praise the Lord which dwelleth in Sion : shew the people of his doings.
Alleluia, All. For, when he maketh inquisition for blood, he remembereth them : and forgetteth not the complaint of the poor. All.

Additional Propers for Eucharistic Devotions