SERMONS AND
COMMENTARY
Patristic / Medieval
Ambrose (Gospel)
Augustine (Gospel)
de Quantitate Animae related to the Gospel)
Chrysostom (Parallel Gospel)
Cassian (On the Spirit of Dejection)
Gregory the Great
- the seven capital sins and their
relation to one another

Catena Aurea (Parallel Gospel)
Dante Divine Comedy:
Reformation
Calvin (Gospel)
Calvin (Epistle)
Luther (Gospel)
Caroline Divines

Evangelical Revival
Wesley's Notes (Gospel)
Wesley's Notes (Epistle)
Oxford Movement
Keble
Williams (Epistle)
Williams (Gospel)
Blunt's Commentary
Scott's Commentary
Trench (On the Miracles)
Paget (The Sorrow of the World)
Recent
Farrer (Weekly Paragraph on the Holy Sacrament)
Common Prayer Commentary
Crouse
Curran
Other
Bunyan (on the Slough of Despond and Giant Despair in Pilgrim's Progress)
G. MacDonald - Miracles
Matthew Henry (Gospel)
Matthew Henry (Epistle)
Additional Materials
Keble poem - Trinity V from The Christian Year
Link to Images:
Jesus teaching from the boat:
- Biblical Art on the WWW
Miraculous Catch of Fishes:
- Biblical Art on the WWW
- Textweek
THE COLLECT.
GRANT, O Lord, we beseech thee, that the course of this world may be so peaceably ordered by thy governance, that thy Church may joyfully serve thee in all godly quietness; through Jesus Christ our Lord. Amen.
THE EPISTLE. 1 S. Peter 3. 8
BE ye all of one mind, having compassion one of another, love as brethren, be pitiful, be courteous; not rendering evil for evil, or railing for railing: but contrariwise blessing; knowing that ye are thereunto called, that ye should inherit a blessing. For he that will love life, and see good days, let him refrain his tongue from evil, and his lips that they speak no guile: let him eschew evil, and do good; let him seek peace, and ensue it. For the eyes of the Lord are over the righteous, and his ears are open unto their prayers: but the face of the Lord is against them that do evil. And who is he that will harm you, if ye be followers of that which is good? But and if ye suffer for righteousness' sake, happy are ye: and be not afraid of their terror, neither be troubled; but sanctify the Lord God in your hearts.
THE GOSPEL. S. Luke 5. 1
IT came to pass, that, as the people pressed upon him to hear the word of God, he stood by the lake of Gennesaret, and saw two ships standing by the lake; but the fishermen were gone out of them, and were washing their nets. And he entered into one of the ships, which was Simon's, and prayed him that he would thrust out a little from the land: and he sat down, and taught the people out of the boat. Now when he had left speaking, he said unto Simon, Launch out into the deep, and let down your nets for a draught. And Simon answering said unto him, Master, we have toiled all the night, and have taken nothing; nevertheless, at thy word I will let down the net. And when they had this done, they inclosed a great multitude of fishes; and their net brake. And they beckoned unto their partners which were in the other ship, that they should come and help them. And they came, and filled both the ships, so that they began to sink. When Simon Peter saw it, he fell down at Jesus' knees, saying, Depart from me, for I am a sinful man, O Lord. For he was astonished, and all that were with him, at the draught of the fishes which they had taken; and so was also James, and John, the sons of Zebedee, which were partners with Simon. And Jesus said unto Simon, Fear not, from henceforth thou shalt catch men. And when they had brought their ships to land, they forsook all, and followed him.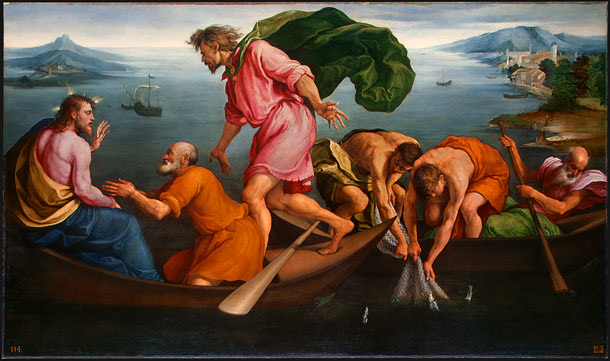 Jacopo Bassano
The Miraculous Draught of Fishes, 1545
National Gallery of Art, Washington

INTROIT. Ps 27:8-16
8 Hearken unto my voice, O Lord, when I cry unto thee; / have mercy upon me, and hear me.
9 My heart hath talked of thee, 'Seek ye my face'; / 'Thy face, Lord, will I seek.'
10 O hide not thou thy face from me, / nor cast thy servant away in displeasure.
11 Thou hast been my succour; / leave me not, neither forsake me, O God of my salvation.
12 When my father and my mother forsake me, / the Lord taketh me up.
13 Teach me thy way, O Lord, / and lead me in the right way, because of mine enemies.
14 Deliver me not over into the will of mine adversaries; / for there are false witnesses risen up against me, and such as speak wrong.
15 I believe that I shall see the goodness of the LORD / in the land of the living.
Ant. O tarry thou the Lord's leisure; / be strong, and let thy heart take courage, and wait upon the Lord.
Glory be. Repeat Antiphon.
GRADUAL. Ps 84:8-13
8 O Lord God of hosts, hear my prayer: / hearken, O God of Jacob.
9 Behold, O God our shield, / and look upon the face of thine Anointed.
10 For one day in thy courts / is better than a thousand.
11 I had rather be a door-keeper in the house of my God, / than to dwell in the tents of ungodliness.
12 For the Lord God is a light and defence; the Lord will give grace and glory; / and no good thing shall he withhold from them that live a godly life.
Alleluia, All. O Lord God of hosts, / blessed is the man that putteth his trust in thee. All.
Additional Propers for Eucharistic Devotions